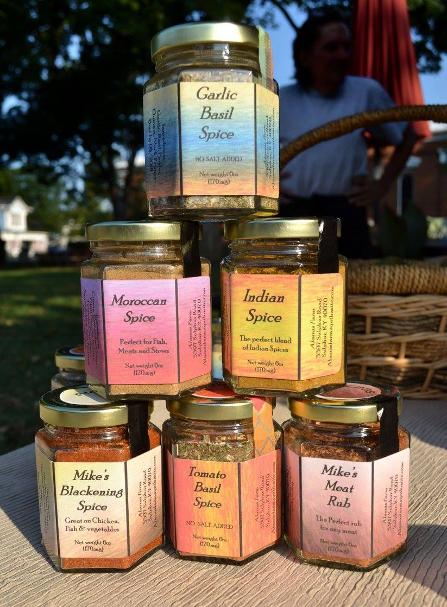 Same delicious Spice Mixes
New jars and labels
NEW FOR 2020
J.E.R.C.
A traditional jamaican jerk seasoning with an Alazzas
flare to it.
The Rubs and spices are as follows:
Mike's Meat Seasoning (for any type of meat - my personal favorite is Pork)
*Garlic Basil Spice ( an all around spice for soups, stews,
pasta's and just about anything you can think of)
*Tomato Basil Spice (my favorite - perfect for garlic bread or to add to
pasta with olive oil (no sauce needed)
or make your own pasta sauce using only one spice - not 20)
(limited availability)
Mike's Blackening Rub - great on fish and chicken and vegetables
( especially asparagus)
* Mediterranean - I believe it to be the most
versatile and bursting with flavor - great on anything.
South African Braai for steak and chops. A wonderful blend of
spices used for South African traditional bar-b-ques.
Lava Salt: The name says it all.
Bar B Que rubbing spice, wonderful on pork, beef, ribs, chicken
full barbeque flavor.